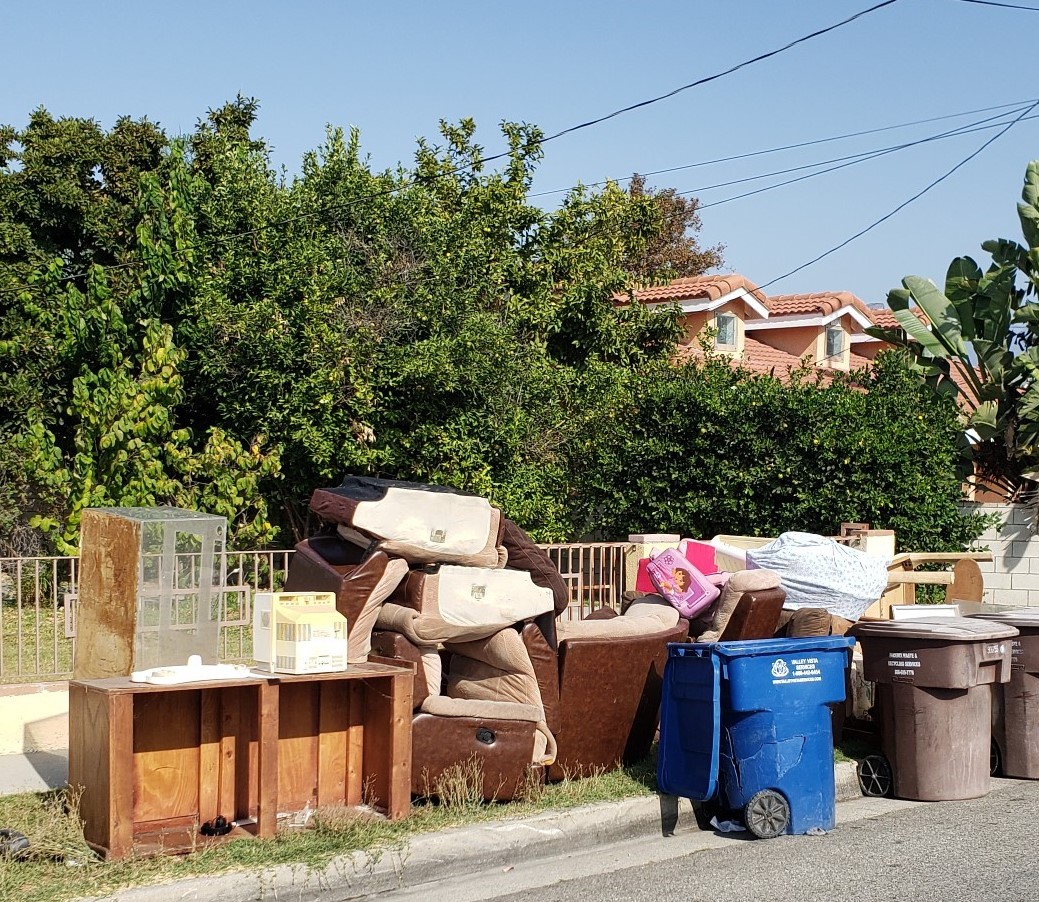 Getting Rid of Old Junk Can be Therapeutic When You Have the Right Help!
Depending on what service area you live in, V.V.S. offers residential customers FREE Bulky Item Pick-ups. Bulky items are any items that are too large to fit into the standard trash cart. 
Each city has it's own specifications, but here's a list of what's generally needed when scheduling your next bulky item pick-up:
Itemized List:  It's necessary that a detailed list of the items we are to collect from your curbside is provided. An itemized list helps us to not only determine what kind of truck to send for service, but to also make sure the correct items are being removed for proper disposal. Tip:  Make sure when making a request you include a description of what the item is along with the quantity of each item.
Authorization:  There may be certain limits to the number of free bulky item pick-ups a resident is allotted depending on the service area they reside in. For this reason, V.V.S. account holders or their authorized contacts must be the one to schedule their bulky pick-ups. For both safety and privacy reasons, V.V.S. Customer Service Representatives are unable to release account information or schedule services to an unauthorized caller. Tip:  If you are an account holder and wish to have someone like a spouse be able to schedule services on your behalf, call a V.V.S. Customer Service Representative at (800) 442 -6454 and have them added as an authorized contact to your account.
Acceptable Items:  Bulky item pick-ups are meant for common household items such as furniture, appliances, and certain e-waste items. V.V.S. will not collect any hazardous materials such as paints and cleaners or construction waste such as demolition debris or dirt as part of our free bulky pick-up service. We'll make sure to inform you of any restrictions when placing a request for service. A good rule of thumb: If the item is too heavy for one or two people to lift, then it's too heavy for us to collect. Items like grand pianos, heavy duty pool tables and Jacuzzi's will not be accepted. Tip: For safe and proper disposal of household hazardous waste (HHW), call (888) CLEAN-LA to find a collection site or 1-day collection event happening near you.
We know how good it feels to finally be able to clear out the garage or make space in that extra room you've had big plans for. With our FREE Bulky Item Pick-up service, we take the hassle out of cleanup projects. Just put in your request to have your bulky items scheduled and we'll come right to your curbside to pick them up.
Another great option for getting rid of old or unnecessary junk that you don't use anymore is to donate it to a local nonprofit or charitable organization. By diverting these larger items away from our local landfills it makes a positive impact on the environment, and it gives your items a chance at second life!
Let V.V.S. help you keep your home clutter-free by calling us to schedule a pick up at 800-442-6454, or by visiting: https://www.valleyvistaservices.com/bulky-item/. 
You can also email your request directly by sending us your name, address or account number, and an itemized list with the quantity of each item to be picked up at vvsbulky@myvvs.com.